Something good is happening in Tel Aviv During the past couple of years. many new vegan options in the food industry have popped up, as the growing awareness to the vegan lifestyle creating demand for a fresh, delicious and exciting new vegan food places. If you're a vegan lover and visiting Tel Aviv, you'll need to know where to get your organic food easily!
Meshek barzilay
Vegan & vegetarian café restaurant located in the beautiful Neve Tzedek. The kitchen is diverse and original and offering breakfasts, business lunch, dinner and drinks menu, all organic healthy food.
6 Ahad Ha'am st. | 03-5166329 | Mon – Sat 8am – Midnight
loveat
With 5 branches all over tel aviv and a best organic coffee, Loveat is a great and fresh place to start your morning. You will find excellent organic salads, sandwiches, spicy Shakshuka and more.
Find your nearest branch here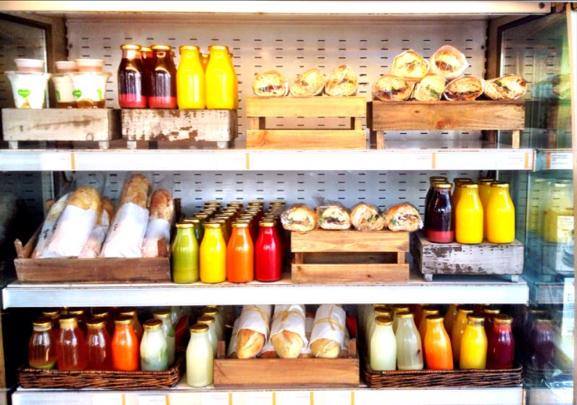 For Organic groceries here are the main supermarkets in Tel Aviv:
Organic market – 59 Sheinkin st. | Sun – Thu 9am – 9pm,
Fri 9am – 4pm
Nitzat haduvdevan – 58 Iben gavirol st. | Sun – Thu 9am – 9pm,
Fri 9am – 5pm
Eden teva market – 71 Iben gavirol st. (Gan Ha'ear center)
Sun – Thu 8am – 10pm, Fri 8am – 3pm
** update – The following places are not running as a restaurant anymore:
Abba Gil
A little vegan organic restaurant, serving home-cooked, healthy meals, fresh juices and hummus. A great and hip place to have lunch.
The shop close ..Gil is doing workshops now.
Buddha Burgers
A vegan self-service fast food chain. Casual atmosphere and a very diverse menu, Offers a variety of foods such as burritos, veggie burgers, veggie dogs, baked falafel, sandwiches, desserts, breakfast items, and other warm dishes. Features a self-serve salad bar.
This place is close now.
Nanuchka
Restaurant-bar that converted to 100% vegan. One of the most famous Georgian restaurant. here you will find a fantastic selection of Georgia-inspired vegan dishes in a nightlife institute with live Djs and colorful people.
This place is close now.