If you are looking for doing sports, Tel Aviv offers a lot of ways to do different sports and fitness.
For those who are gym addicted, there are a lot of gyms around the city, each one offers different facilities such: pool, TRX, studio classes, private training, and sauna. you can buy a ticket pass for a day, week, half-year or a year.
Here are some of the gyms:
Holmes place  ( 3 clubs in Tel Aviv, 21 clubs in Israel)
Great shape  68 Iben Gvirol street
Space  47 Shenkin street
Gymi  Dizengoff center. 3-4 floor
For those who like to run, walk or ride a bike outside, Hayarkon park and the promenade offer a wide running track, great view and fresh air, and for free.
If you are looking for a run group, Nike TLV is organizing run groups for free. all you need to do is to sign.
For the competition ones, at least twice a year the city runs a marathon or a night run for the public. you need to sign. admission fee is 150-180 NIS. You get to enjoy an urban run with live Dj and get a cool T-Shirt. The next TLV night run is next week on October 20 for 10KM. for more info here.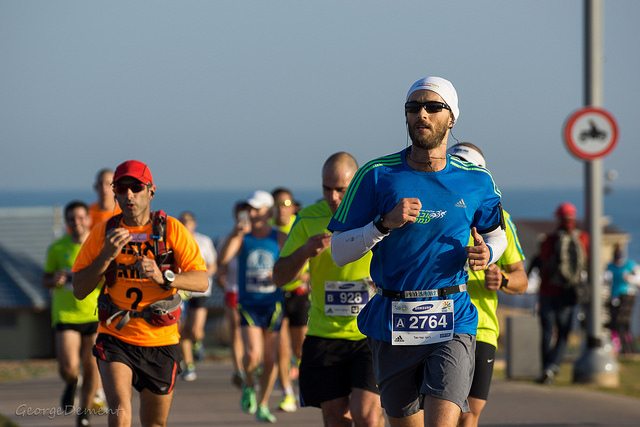 Tel Aviv also has outdoor fitness facilities including tennis lawn, water sports activity centers, basketball courts, mini football, and volleyball.
For water sport, you can find Israel Surf Club, Located in Dolphinarium beach (Tel-Aviv), and open from 8 AM to 7 PM all week. the club offers Surfboard rentals, Surfing lessons – private and group sessions for all skill levels, Stand-up paddle (SUP) board rentals, lessons, and more.
Olimpus wall for Rock Climbing – climbing routes at all levels and forms. Located at the Sportak (42 Rokach street).
For Olympic swim pool: Gordon swimming pool offers an Olympic pool 50 meters long, the Pool water groundwater is mineral-rich with real flavors of the sea. the water temperature in the pool is fixed and stands at about 24 degrees.
Tel Aviv University sports center complex – 50 meter outdoor heated Olympic swimming pool, and Two 25 meter indoor swimming pools ( heated during winter ).