Hanukkah holiday is coming, and you can see and smell sufganiyot everywhere. Sufganiyot is one of the symbols of this holiday. it is a traditional deep-fried donut, also called Jelly donuts. Usually, donuts are filled with strawberry jam, but you can find other filling donuts, such as chocolate and dulce de leche. After roasting and donut filling, sprinkle with powdered sugar over it. Over the years the filling was an upgrade and even the size and shape changed, but you can still love the taste of the classic sufganiyot!
here are some great places to buy unique and excellent Sufganiyot in Tel Aviv:
Dallal bakery – update 2020 Dallal closed
Our number one choice – Offers classic Dallal variety of fillings. Alongside the donuts, are also unique packages with a variety of fillings donuts: Dulce de leche, strawberry jam, chocolate, and pistachio.
7 kol israel haverim St. neve tzedek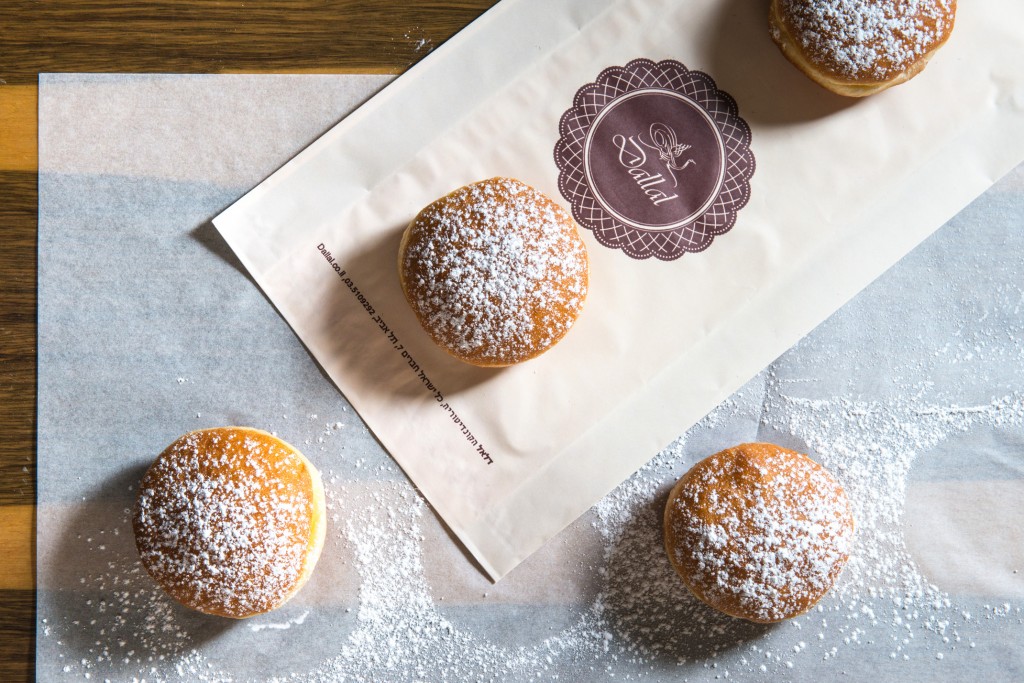 Lehamim
This year Lehamim bakery offers simple, classic flavors that everyone can relate to – strawberry jam and Belgian chocolate ganache. for Children, they created an empty donut topped with chocolate and colored candies.
103 Hahashmonaim St.
Bakery
This year they decided to focus on two types of donuts: classic donuts filled with strawberry jam and an avant-garde donut with salted butter caramel.
Find the nearest branch here
Cake Art
A small boutique bakery specialist on cakes, offers Airy donuts, fantastic jam, and in the perfect size. fillings include halva, jam, chocolate milk, and vanilla.
188 Arlozorov St.
Metuka
This year focus on chocolate with sweet collection especially with donuts cut like a sandwich: Farley donut chocolate, white chocolate donut and nougat, Irish Cream, Raspberry Pavlova, Sabrina strawberry, tiramisu and a vegan donut filled with strawberry jam. classical Strawberry donut is sold alongside, milk donut, a chocolate donut topped with jellybean for children.
Find the nearest branch here